Mapa Astral de Avril Lavigne
Uma Ilustre Libriana
Avril Ramona Lavigne nasceu no dia 27 de setembro de 1984, às 03h56m, em Belleville, no Canadá. Ela é de Libra, cujo regente, Vênus, está em Escorpião,
---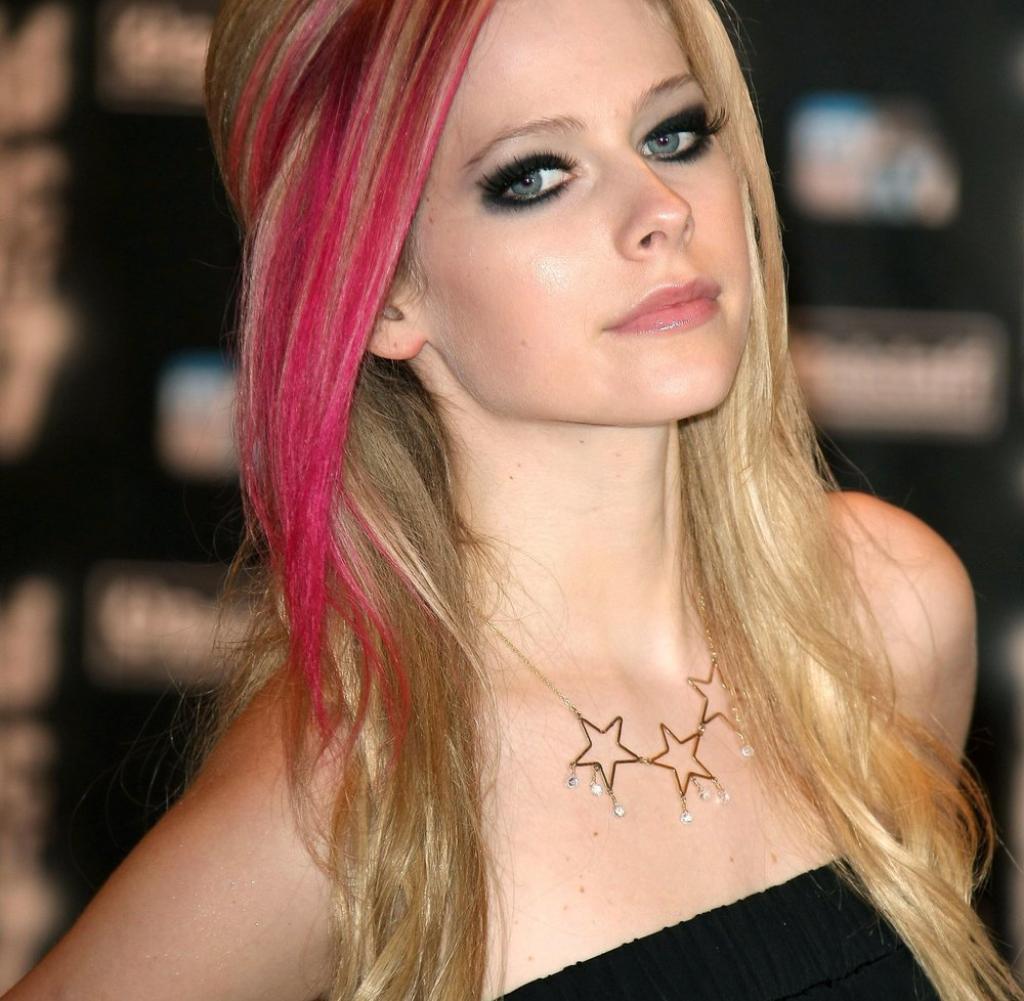 Avril Ramona Lavigne nasceu no dia 27 de setembro de 1984, às 03h56m, na cidade de Belleville, no Canadá. Ela é de Libra, cujo regente, Vênus, está em Escorpião, em conjunção com Lua e Plutão, além de Saturno que também está nesse signo, todos na casa da comunicação. E ela tem Júpiter na casa da criatividade, e Netuno, que ainda faz um trigono com o ascendente.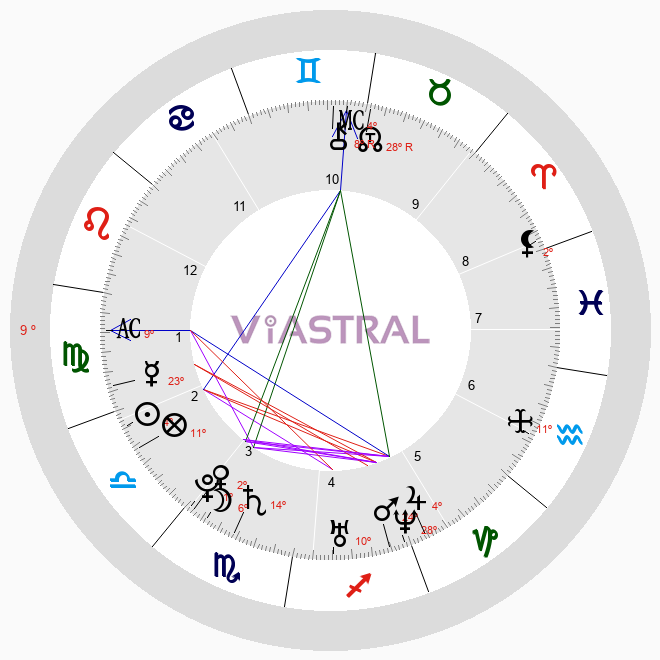 Tal configuração indica criatividade, talento, sensualidade e senso estético apurado, mas também emoções profundas e contidas, tendência à introspecção e até a certa melancolia, tendência que é reforçada pelo posicionamento dos planetas em seu mapa, todos abaixo da linha do horizonte. De fato, ela manifesta tais características em seu trabalho, em suas letras sombrias e em sua imagem de menina tímida, mas, ao mesmo, sensual, ousada e desafiadora. 
Seu ascendente é Leão, cujo regente, o Sol, está na casa das posses, onde também está Mercúrio, em aspecto harmônico com a casa da vocação, da carreira e da imagem social, o que indica brilho pessoal, projetos grandiosos, interesse pelas questões financeiras e habilidade natural para transformar o trabalho em dinheiro, em muito dinheiro. A moça é mesmo um fenômeno e seus números são impressionantes Ela começou a carreira precocemente, aos 17 anos, e aos 18 já figurava no Livro Guinnes de Recordes como a artista mais jovem a atingir o topo da parada. E parece que a moça tem talento. Na eleição promovida pela revista Rolling Stone das 100 melhores músicas e dos 100 melhores álbuns da década de 2000, sua música Complicated ficou em oitavo lugar e seu álbum Let Go ficou em quarto lugar .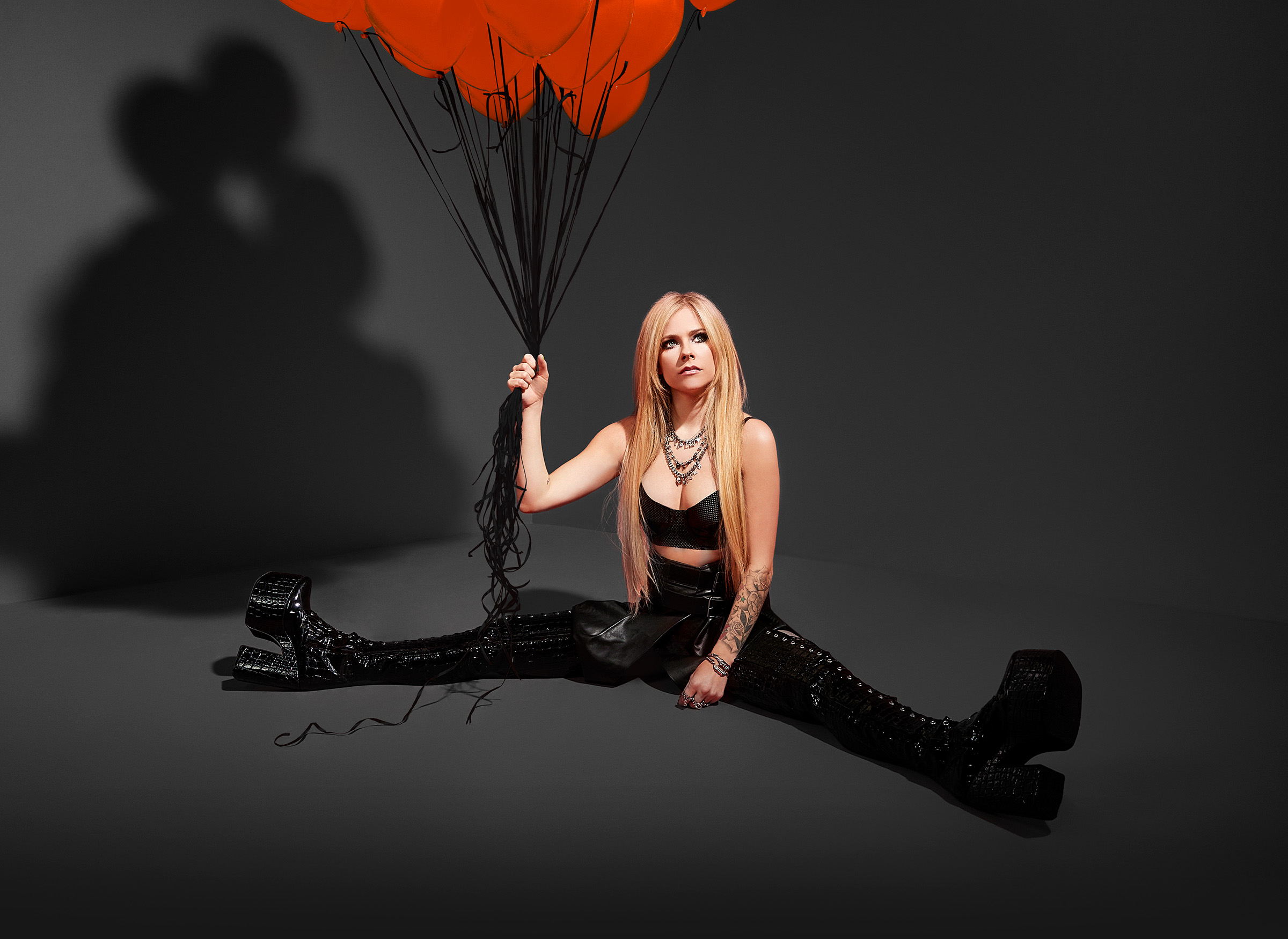 "Mesmo se ela nunca vender sequer uma cópia de outro álbum, sempre terá "Complicated", legitimamente louvada como um dos melhores singles da década."
Rede MTV.
Mas até hoje seus discos vendem aos milhões, ela já ganhou muitos prêmios e seu nome também aparece em muitas outras listas:
- Ocupa a 28ª posição na lista da BillBoard dos 100 artistas mais populares da década de 2000.
- No Brasil, sua música foi eleita como o som da década de 2000 pelos usuários do portal Ig.
- Ocupa a 38ª posição na lista da Billboard dos 200 artistas mais bem sucedidos em vendas.
E Avril também investe em outras áreas. Já atuou algumas vezes como atriz, tem fragrâncias com seu nome e ainda atua no mercado de moda Não é por acaso que ela figura na Revista Forbes como uma das jovens mais ricas do mundo.
Ela já foi chamada de Princesa Pop Punk devido a seu comportamento provocador, suas letras intimistas e seu visual desleixado chic, mas a menina virou mulher, casou, depois se separou, e seu trabalho e sua imagem se modificaram com o tempo. De alguns anos para cá, ela mudou seu estilo, começou a se alimentar de forma mais saudável, a praticar ioga e atividades esportivas, como hóquei, futebol, patinação e surfe. Mas Avril nunca se encaixou no estereótipo de roqueira deslumbrada com o sucesso, maluquete e frívola.
"Mudei o jeito de me vestir, algo que é normal. Mas olho para trás, vejo todas as fotos e todas aquelas coisas estranhas que eu vestia. Era legal vestir calças de skatista e gravata, naquela época."      Avril em entrevista pra a revista StyleList
Ela sempre colaborou ativamente com instituições filantrópicas, cedendo músicas para campanhas e participando de shows e leilões beneficentes. Já fez ações para ajudar as vítimas do terremoto do Haiti, do tsunami na Ásia, para o Teleton Mexicano e para a Race to Erase MS, fundação que trabalha para a erradicação da esclerose múltipla. Em 2010, então com 26 anos, ela fundou a The Avril Lavigne Foundation R.O.C.K.S, organização filantrópica cujo objetivo é ajudar jovens com qualquer tipo de deficiência ou doença grave. Tal predisposição a trabalhar para o bem do próximo é compatível com a posição em seu mapa de Júpiter e Netuno em Sagitário, este último em trigono com o ascendente. Não é pouca coisa para alguém tão jovem.