Rihanna, uma pisciana muito criativa
Ela é linda, talentosa e tem muita personalidade.
Ela é cantora, compositora e empresária, aliás, a primeira mulher negra a comandar uma grife de luxo, a Fenty, sobrenome da cantora, lançada em Paris. Além disso, é uma atriz promissora, sim, a bela já fez algumas aparições na telona.
---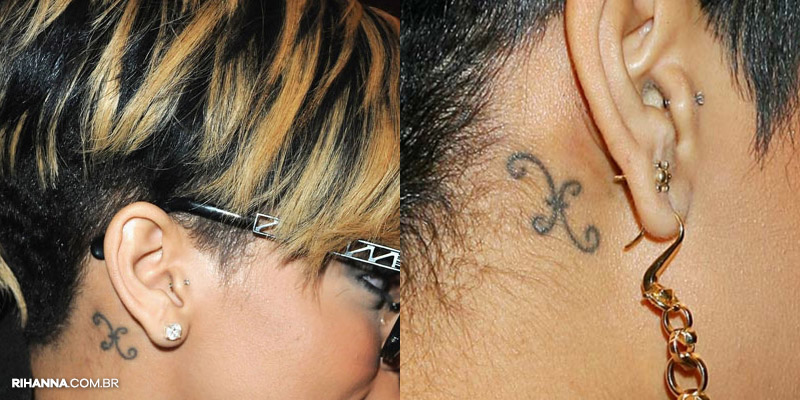 Robyn Rihanna Fenty nasceu em Georgetown, Saint Michael, Barbados, numa manhã de sábado, às 8h50, no dia 20 de fevereiro de 1988. Ela é de Peixes, com o Sol na casa 11 em sextilha com Urano, Netuno e Marte, o que lhe confere originalidade, inspiração e uma determinação ferrenha para batalhar pelo que quer, o que é reforçado pelo ascendente em Áries.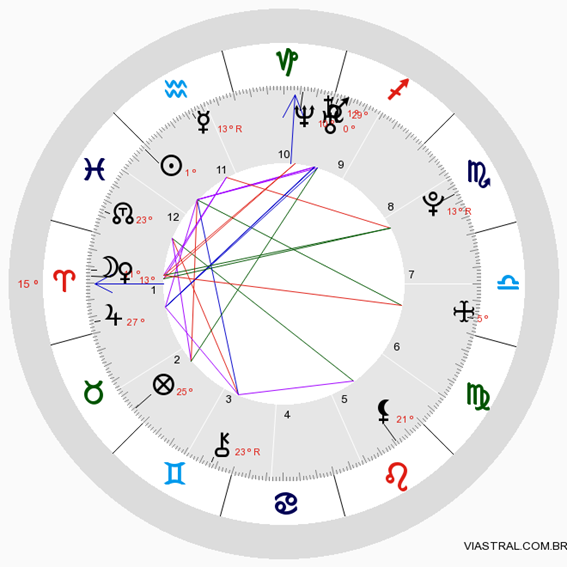 Sua criatividade e seus múltiplos talentos são indicados também por Netuno no Meio do Céu e Vênus no ascendente, sendo que este último também é indicação de sua beleza marcante, pela qual ela foi considerada pela revista francesa GQ a 3ª mulher mais bonita do mundo, o que não é exagero.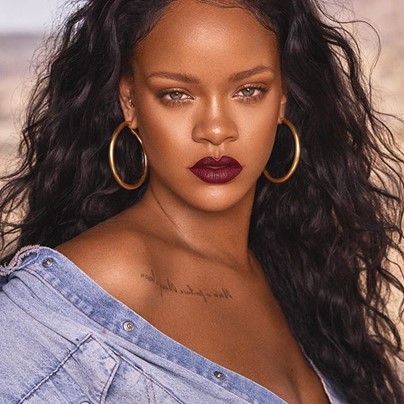 Ela tem a casa dos relacionamentos em Libra, que é regido por Vênus, indicando que ela é compreensiva e busca harmonia. No entanto, Vênus sem seu mapa está exilado em Áries e faz quadratura com Netuno, o que muitas vezes indica tendência a atrair parceiros desregrados, confusos e até agressivos. Tal configuração é compatível com a forma como Rihanna vive seus relacionamentos, algo entre o recato e o escândalo. Ela até tenta ser discreta, mas isso é impossível, já que ela e seus namorados são famosos e atraem muita atenção da mídia. E a moça já se envolveu em relacionamentos tumultuados. Seu namoro com Chris Brown terminou depois que ele a agrediu fisicamente, o que resultou inclusive em processo criminal. Apesar disso, ela demonstrou uma tolerância considerada excessiva por muita gente, chegando a fazer o seguinte comentário sobre a possibilidade de reatar o relacionamento: 
"Achei que iria mudá-lo. Eu o protegia muito. Eu sentia que as pessoas não o entediam. Mesmo depois…Se você suportar o que está acontecendo, talvez esteja aceitando que merece esse tipo de coisa, e foi aí que eu finalmente tive que dizer: oh-oh, fui estúpida em pensar que podia aguentar. Às vezes você tem que ir embora… Eu não o odeio. Não somos amigos, nem inimigos. No momento, não temos um relacionamento"
Sua infância foi marcada por um drama e um conflito familiar, o que é compatível com a Lua em Áries na casa 12 em quadratura com Netuno. Quando ela estava com 9 anos, seu pai, que era alcóolatra, usava drogas e chegou a agredir fisicamente sua mãe, saiu de casa. Embora o pai tenha superado o vício quando Rihanna já era adulta, isso a marcou profundamente, como podemos perceber pela declaração abaixo:
"...eu era muito jovem quando eu convivia com seus vícios. Eu não entendia direito o que estava acontecendo, mas sabia que ele estava fazendo algo que não deveria. A vida do meu pai foi bastante caótica, e, em parte por causa de seus problemas com drogas, nunca tivemos muito dinheiro. …Eu sempre vi maconha e cocaína em casa, mas não sabia o que era. Só sabia que minha mãe não gostava, e eles estavam sempre brigando por causa disso."
Foi também com 9 anos que ela começou a mostrar seu talento e, talvez para fugir do clima familiar pesado, criou uma banda infantil com duas amigas da escola. Desde o começo de sua carreira em 2005, quando estourou nas paradas, Rihanna já vendeu mais de 15 milhões de álbuns, ganhou muitos prêmios, entre eles o Grammy de 2008 e quebrou vários recordes, como o de cantora que mais tempo ficou nas paradas no Reino Unido. Foi consagrada como a Rainha do Rhythm and Blues e homenageada como a "Mulher do Ano" de 2009, pela revista Glamour Magazine, por seu trabalho filantrópico. E ela fez mesmo jus à homenagem. Ainda em 2006, Rihanna criou uma fundação, The Believe Foundation, com o objetivo de ajudar crianças doentes. Ao lado de Mariah Carey e outros, já participou de campanhas para arrecadar fundos para a pesquisa em busca da cura para o câncer. Em 2008, juntamente com outros artistas, ajudou a desenhar uma coleção de roupas para um campanha contra a Aids, batizada de Moda contra a AIDS, que arrecadou um 1,5 milhões de euros. Também em 2008, gravou um comercial para a Gucci, para uma campanha beneficente para a UNICEF. Ajudou a construir um hospital no Malauí, na África. Doou quase dois milhões de dólares para um hospital em Barbados, seu país de origem. A empatia e o espírito de solidariedade são indicados em seu mapa por Sol em Peixes na casa 11 e Netuno no Meio do Céu.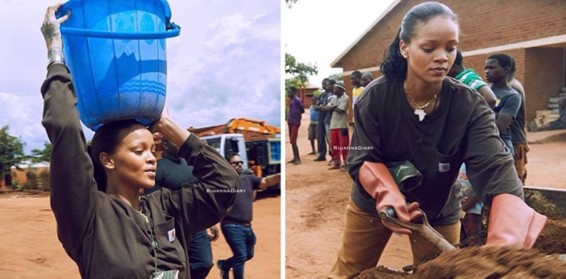 Rihanna sempre levou sua carreira muito a sério. Ela é cantora, compositora e empresária, aliás, a primeira mulher negra a comandar uma grife de luxo, a Fenty, sobrenome da cantora, lançada em Paris. Além disso, é uma atriz promissora, sim, a bela já fez algumas aparições na telona. Em Barbados, ela é uma lenda viva. Sua imagem é usada para fomentar o turismo, ela foi nomeada embaixadora da Cultura e da Juventude, há uma rua com seu nome e foi instituído um feriado nacional no calendário, o "Dia Nacional da Rihanna", no dia 20 de fevereiro, aniversário da cantora.